Beachview Villa, Simon's Town, South Africa.
Winter chalet, Zermatt, Switzerland
Luxury pool resort, Gstaad, Switzerland
Opera house, Paris, France
The term 'paradigm' designates a set of beliefs and concepts that shape a discipline. Serenity Audio is proud to present the Paradigm family, a new standard for home Audio.
A Paradigm system typically consists of two Empyrean snails accompanied by the Opulence basshorn, throning majestically over every room.
From the ancient Greek "empyrios" meaning "in or of the fire", Empyrean is of the highest celestial realm.
Empyrean was not designed, it is discovered. The geometry flows directly from laws of physics: an optimally parameterized nautilus housing to absorb the rear facing sound, combined with the perfect, biaxial, tri-channel horn.
Empyrean further features additional virtual volume by means of nanotechnology, along with an infinity loop at its center.
Opulence embodies the crown jewel of bass reproduction. Unlike any other system, Serenity audio employs no resonator for the reproduction of low frequencies. The result is a majestic central element in the room.
A dry, linear and immediate bass response like no other is heard and felt all the way down to subsonic frequencies, poshing glorious chills down your spine.
While no Helmholtz resonator can approach the performance of Opulence, we want to offer a less voluptuous solution for your musical journey.
That is why we developed Seraphim, a powerful device for bass generation. Seraphim is built to the highest standards of the scientific literature and, like Opulence, can be placed anywhere in the listening room.
Dimensions
Paradigm is an astounding system that thrones over any listening room. We recommend a minimum of 50 m² for the listening room.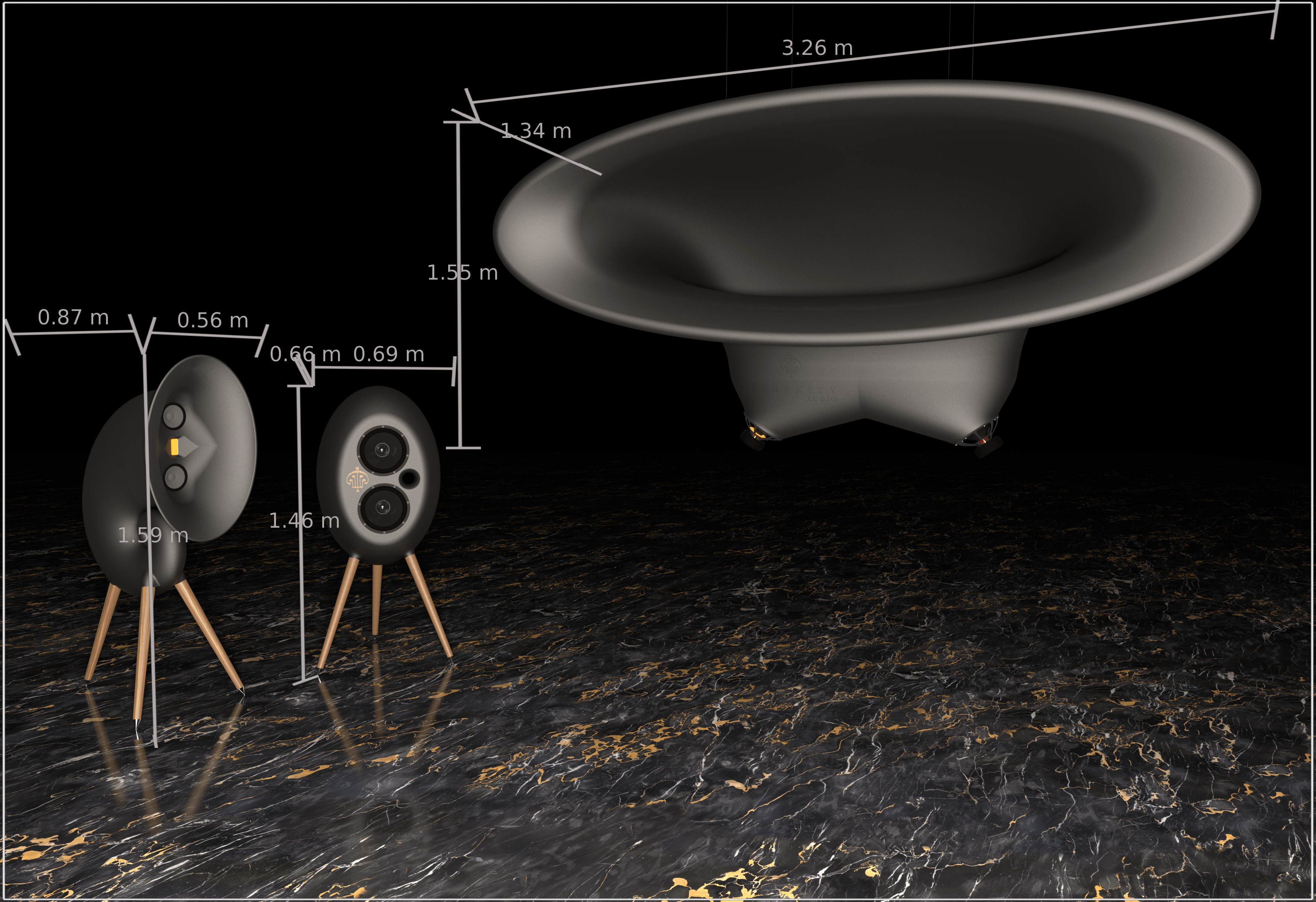 Choose your style
We can provide virtually an finish - Paradigm is styled according to your individual desires.